Posts for: January, 2019
By Stonebrook Dental
January 14, 2019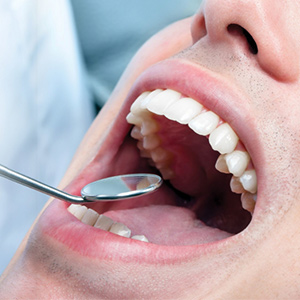 Dental caries (tooth decay) is a leading cause of tooth loss. But with prompt diagnosis and care we can often stop it before it causes too much damage.
The traditional treatment approach is simple: remove all diseased tooth structure and then restore the tooth with a filling. But this otherwise effective treatment has one drawback: you may lose significant healthy structure to accommodate a suitable filling or to make vulnerable areas easier to clean from bacterial plaque.
That's why a new treatment approach called minimally invasive dentistry (MID) is becoming more common. The goal of MID is to remove as little of a tooth's natural enamel and dentin as possible. This leaves the treated tooth stronger and healthier, and could reduce long-term dental costs too.
Here's how MID could change your future dental care.
Better risk assessment. MID includes a treatment protocol called caries management by risk assessment (CAMBRA). With CAMBRA, we evaluate your individual tooth decay risk, including oral bacteria levels, the quality of saliva flow to neutralize mouth acid, and sugar consumption. We then use our findings to customize a treatment plan that targets your areas of highest risk.
New detection methods. The real key to fighting tooth decay is to find it before it can destroy tooth structure with the help of new diagnostic technology. Besides advances in x-ray imaging that provide better views with less radiation exposure, we're also using powerful dental microscopes, lasers and infrared photography to show us more about your teeth than we can see with the naked eye.
"Less is More" treatments. In contrast to the dental drill, many dentists are now using air abrasion rather than a dental drill to remove decayed tooth material. Air abrasion emits tiny material particles within a pressurized air stream that leaves more healthy tooth structure intact than with drilling. We're also using new filling materials like composite resin that not only resemble natural tooth color, but require less structural removal than other types of fillings.
Using MID, we can treat tooth decay while preserving more of your natural teeth. This promises better long-term outcomes for future dental health.
If you would like more information on new treatments for tooth decay, please contact us or schedule an appointment for a consultation. You can also learn more about this topic by reading the Dear Doctor magazine article "Minimally Invasive Dentistry: When Less Care is More."
By Stonebrook Dental
January 04, 2019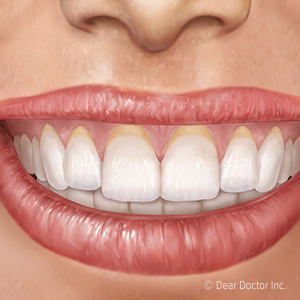 A "toothy grin" might be endearing, but not necessarily healthy. More of the teeth showing may mean your gums have pulled back or receded from the teeth. If so, it's not just your smile that suffers—the parts of teeth protected by the gums could become more susceptible to disease.
There are a number of causes for gum recession. Some people are more likely to experience it because of genetically thinner gum tissues. Over-aggressive brushing could also contribute to recession. But the most common cause by far is periodontal (gum) disease, a bacterial infection triggered by dental plaque accumulating on teeth mainly as a result of inadequate hygiene.
There are some things we can do to help heal and restore recessed gums, most importantly treating gum disease. The number one goal of treatment is to uncover and remove all dental plaque from tooth and gum surfaces, which can take several sessions and sometimes minor surgery if the infection has reached the tooth roots. But removing plaque and tartar (calcified plaque) is necessary to stop the infection and allow the gums to heal.
For mild recession, this may be enough for the gums to regain normal coverage. But in more severe cases we may need to help rejuvenate new tissue with grafting surgery. In these highly meticulous procedures a surgeon uses microscopic techniques to position and attach donated tissue to the recession site. The graft serves as a scaffold on which new tissue growth can occur.
While these treatments can be effective for reversing gum recession, they often require time, skill and expense. It's much better to try to prevent gum recession—and gum disease—in the first place. Prevention begins with daily brushing and flossing to prevent plaque buildup, as well as regular dental visits for more thorough cleanings. Be on the lookout too for any signs of a beginning gum infection like swollen, reddened or bleeding gums and see your dentist as soon as possible to minimize any damage to your gums.
Caring for your gums is equally as important as caring for your teeth. Healthy gums equal a healthy mouth—and an attractive smile.
If you would like more information on preventing gum recession, please contact us or schedule an appointment for a consultation. You can also learn more about this topic by reading the Dear Doctor magazine article "Gum Recession."