Posts for tag: orthodontic treatment
By Stonebrook Dental
April 19, 2018
Mayim Bialik has spent a good part of her life in front of TV cameras: first as the child star of the hit comedy series Blossom, and more recently as Sheldon Cooper's love interest — a nerdy neuroscientist — on The Big Bang Theory. (In between, she actually earned a PhD in neuroscience from UCLA…but that's another story.) As a child, Bialik had a serious overbite — but with all her time on camera, braces were just not an option.
"I never had braces," she recently told Dear Doctor – Dentistry & Oral Health magazine. "I was on TV at the time, and there weren't a lot of creative solutions for kids who were on TV." Instead, her orthodontist managed to straighten her teeth using retainers and headgear worn only at night.
Today, there are several virtually invisible options available to fix orthodontic issues — and you don't have to be a child star to take advantage of them. In fact, both children and adults can benefit from these unobtrusive appliances.
Tooth colored braces are just like traditional metal braces, with one big difference: The brackets attached to teeth are made from a ceramic material that blends in with the natural color of teeth. All that's visible is the thin archwire that runs horizontally across the teeth — and from a distance it's hard to notice. Celebs like Tom Cruise and Faith Hill opted for this type of appliance.
Clear aligners are custom-made plastic trays that fit over the teeth. Each one, worn for about two weeks, moves the teeth just a bit; after several months, you'll see a big change for the better in your smile. Best of all, clear aligners are virtually impossible to notice while you're wearing them — which you'll need to do for 22 hours each day. But you can remove them to eat, or for special occasions. Zac Efron and Katherine Heigl, among others, chose to wear clear aligners.
Lingual braces really are invisible. That's because they go behind your teeth (on the tongue side), where they can't be seen; otherwise they are similar to traditional metal braces. Lingual braces are placed on teeth differently, and wearing them often takes some getting used to at first. But those trade-offs are worth it for plenty of people. Which celebs wore lingual braces? Rumor has it that the list includes some top models, a well-known pop singer, and at least one British royal.
So what's the best way to straighten your teeth and keep the orthodontic appliances unnoticeable? Just ask us! We'd be happy to help you choose the option that's just right for you. You'll get an individualized evaluation, a solution that fits your lifestyle — and a great-looking smile!
For more information about hard-to-see (or truly invisible) orthodontics, please contact our office or schedule a consultation. You can read more in the Dear Doctor magazine articles "Orthodontics for the Older Adult" and "Clear Aligners for Teenagers."
By Stonebrook Dental
May 12, 2017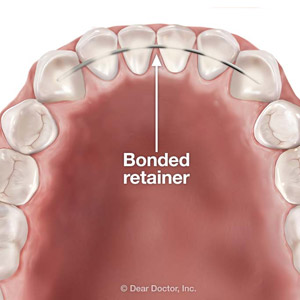 If you've known anyone who has worn braces, you know what comes after — wearing a retainer. This can be kind of a letdown after all those months with braces, but it's absolutely necessary.
That's because teeth have a tendency to "rebound" to their pre-orthodontic positions once the force to move them stops after the braces are removed. Retainers help keep or "retain" moved teeth in their new positions and prevent them from reverting to the old.
When you think "retainer," you probably picture a removable appliance with a wire that fits over the front of the teeth. While that may be the most common type, it isn't the only one. There's another called a bonded retainer, a thin piece of wire bonded to the back of the teeth that need to be retained. Unlike the other type, a dentist must remove a bonded retainer when it's no longer needed.
The biggest advantage of a bonded retainer is its invisibility — the wire is behind the teeth so no one can see it as with a removable retainer. The wire is bonded to the teeth with a dental composite material and then light-cured to create a strong attachment.
Another advantage is especially pertinent to younger patients. Because it's permanently attached and can't be taken out, there's no constant reminding of the patient to wear it — and no more worries about replacing a lost one.
They can, though, be difficult to floss around leading to potential plaque buildup that increases disease risk. It's very important you receive proper hygiene instruction for cleaning under the bonded retainer. Another concern is that they can break under excessive chewing pressure. And as with the more common retainer, we wouldn't want to remove it as that will result in the teeth's relapse to their old positions.
To learn which retainer is best for your situation, you should discuss the options with your orthodontist. Regardless of which type you choose, though, a retainer is a must for protecting your investment in that new smile.
If you would like more information on orthodontics and retainers, please contact us or schedule an appointment for a consultation. You can also learn more about this topic by reading the Dear Doctor magazine article "Bonded Retainers."
By Stonebrook Dental
February 18, 2017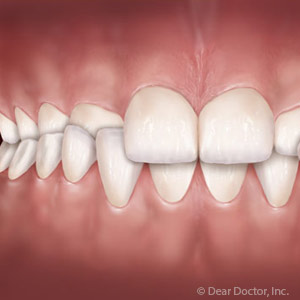 Poor bites, also known as "malocclusions," can have a dramatic impact on mouth function and appearance. Moving teeth to better positions will solve most of these bite problems — but not all.
A case in point is a malformed maxilla, the skeletal structure formed by the union of the upper jaw and the roof of the mouth (the palate). If the rear portion of the maxilla develops too narrowly, the back teeth will bite abnormally inside the lower teeth while the front teeth bite normally, creating what's known as a crossbite. People with this kind of malocclusion often shift their lower jaw to one side to bite down completely.
This can be corrected without too much intervention if the problem is diagnosed while the person is young. This is because the maxilla is actually formed from two bones that don't completely fuse together in the center of the palate until just after puberty. An orthodontic appliance known as a palatal expander takes advantage of this slight gap. The metal appliance is placed along the narrowed portion of the palate in the rear of the mouth: four metal "arms," two on each side, attach to the inside of the back teeth with a tension device between them that extends the arms outward to put pressure against the teeth.
Every day the patient or a parent uses a special key to turn the tension device and cause it to expand slightly, placing additional outward pressure on the jaw. This will widen the gap in the center of the palate and new bone will grow to fill in the increased space. Over time this will cause the rear portion of maxilla to widen.
While effective, a palatal expander may not work in every case, and it must be done before the two bones fuse permanently. When it can be used, though, it's a proven treatment that can restore proper bite function, as well as improve your child's smile.
If you would like more information on palatal expanders to correct certain bite problems, please contact us or schedule an appointment for a consultation. You can also learn more about this topic by reading the Dear Doctor magazine article "Palatal Expanders."