Posts for: October, 2017
By Stonebrook Dental
October 25, 2017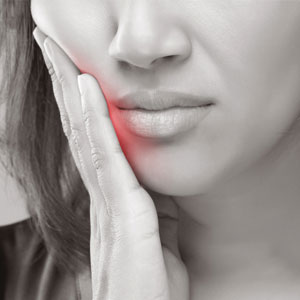 Your temporomandibular joints (TMJ), located where your lower jaw meets the skull, play an essential role in nearly every mouth function. It's nearly impossible to eat or speak without them.
Likewise, jaw joint disorders (temporomandibular joint disorders or TMD) can make your life miserable. Not only can you experience extreme discomfort or pain, your ability to eat certain foods or speak clearly could be impaired.
But don't assume you have TMD if you have these and other symptoms — there are other conditions with similar symptoms. You'll need a definitive diagnosis of TMD from a qualified physician or dentist, particularly one who's completed post-graduate programs in Oral Medicine or Orofacial Pain, before considering treatment.
If you are diagnosed with TMD, you may then face treatment choices that emanate from one of two models: one is an older dental model based on theories that the joint and muscle dysfunction is mainly caused by poor bites or other dental problems. This model encourages treatments like orthodontically moving teeth, crowning problem teeth or adjusting bites by grinding down tooth surfaces.
A newer treatment model, though, has supplanted this older one and is now practiced by the majority of dentists. This is a medical model that views TMJs like any other joint in the body, and thus subject to the same sort of orthopedic problems found elsewhere: sore muscles, inflamed joints, strained tendons and ligaments, and disk problems. Treatments tend to be less invasive or irreversible than those from the dental model.
The newer model encourages treatments like physical therapy, medication, occlusive guards or stress management. The American Association of Dental Research (AADR) in fact recommends that TMD patients begin their treatment from the medical model rather than the dental one, unless there are indications to the contrary. Many studies have concluded that a majority of patients gain significant relief with these types of therapies.
If a physician or dentist recommends more invasive treatment, particularly surgery, consider seeking a second opinion. Unlike the therapies mentioned above, surgical treatments have a spotty record when it comes to effectiveness — some patients even report their conditions worsening afterward. Try the less-invasive approach first — you may find improvement in your symptoms and quality of life.
If you would like more information on treating TMD, please contact us or schedule an appointment for a consultation. You can also learn more about this topic by reading the Dear Doctor magazine article "Seeking Relief from TMD."
By Stonebrook Dental
October 10, 2017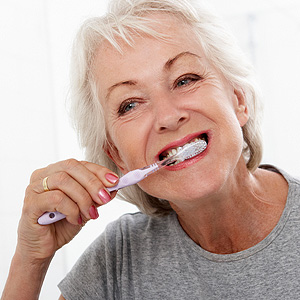 So, you've just acquired an attractive restoration with dental implants. You may be thinking at least with these teeth you won't have to worry about dental disease.
Think again. While the implants and their porcelain crowns are impervious to decay the surrounding gums and bone are still vulnerable to infection. In fact, you could be at risk for a specific type of periodontal (gum) disease called peri-implantitis (inflammation around the implant).
Bacterial plaque, the thin bio-film most responsible for gum disease, can build up on implant crowns just as it does on natural tooth surfaces. If it isn't removed with daily brushing and flossing and regular dental cleanings the bacteria can trigger an infection in the gums.
Besides weakening gum tissues, gum disease can also cause bone loss, of critical importance to dental implants. An implant depends on the bone they're inserted in to hold them in place. If the bone around an implant becomes infected it could begin to be lost or dissolve (resorb), which could lead to loss of the implant.
That's why it's critical to keep the natural tissue structures supporting your implants infection-free. Not only is daily hygiene a must, but your implants and any remaining natural teeth should undergo professional cleaning at least twice a year or more if your dentist recommends it.
Cleanings involving implants will also be a bit different from natural teeth. While the dental materials used in the crown and implant post are quite durable, regular cleaning instruments can scratch them. Although tiny, these scratches can become hiding places for bacteria and increase your risk of infection.
To avoid this, your hygienist will use instruments (known as scalers and curettes) usually made of plastics or resins rather than metal. The hygienist may still use metal instruments on your remaining natural teeth because their enamel can tolerate metal without becoming scratched creating a smoother surface.
While keeping implants clean can sometimes be a challenge, it's not impossible. Implants on average have a long-term success rate above 95%. With both you and your dentist caring and maintaining these state-of-the-art restorations, you may be able to enjoy them for decades.
If you would like more information on caring for dental implants, please contact us or schedule an appointment for a consultation. You can also learn more about this topic by reading the Dear Doctor magazine article "Dental Implant Maintenance: Implant Teeth must be Cleaned Differently."