Posts for tag: root canal treatment
By Stonebrook Dental
June 13, 2019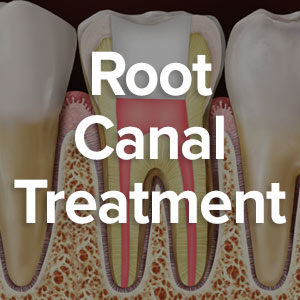 Every year U.S. dentists perform around 25 million root canal treatments and save countless teeth from the ravages of decay. But if you search "root canal" on the Internet, you might encounter an unsettling charge against this tooth-saving treatment—that it causes cancer.
Root canal treatments are routinely used when tooth decay has infected the pulp, the innermost layer of a tooth. During the procedure, we access the pulp and remove all the infected tissue. We then fill the empty pulp and root canals, seal the access hole and later crown the tooth to prevent further infection. Without this intervention, the decay can continue to advance toward the roots and supporting bone, putting the tooth in imminent danger of loss.
So, is there any credibility to this claim that root canal treatments cause cancer? In a word, no: there's no evidence of any connection between root canal treatments and cancer—or any other disease for that matter. On the contrary: root canals stop disease.
As with other types of urban legends and internet hype, the root canal-cancer connection may have arisen from another discredited idea from the early 20th Century. A dentist named Weston Price promoted the notion that leaving a "dead" organ in the body led to health problems. From his perspective, a root canaled tooth with its removed pulp tissue fit this criterion.
In the mid-1950s, dentistry thoroughly examined Dr. Weston's theory pertaining to treatments like root canals. The Journal of the American Dental Association devoted an entire issue to it and found after rigorous scientific inquiry that the theory had no validity in this regard. Another study in 2013 confirmed those findings. In fact, the later study instead found that patients who underwent a root canal treatment had a 45 percent reduction in oral cancer risk.
Given the freewheeling nature of the Internet, it's best to speak with a dental professional about your oral health before trusting a post or article you've found online. Not only are they more informed than an unverified online source, they would certainly not knowingly subject you to a procedure to save a tooth at the expense of your health.
If you would like more information on root canal treatment, please contact us or schedule an appointment for a consultation. You can also learn more about this topic by reading the Dear Doctor magazine article "Root Canal Safety."
By Stonebrook Dental
March 25, 2019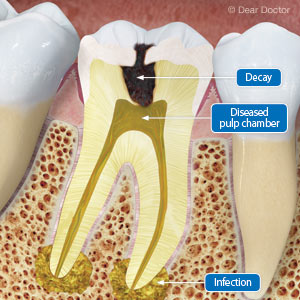 A root canal treatment is a common procedure performed by dentists and endodontists (specialists for inner tooth problems). If you're about to undergo this tooth-saving procedure, here's what you need to know.
The goal of a root canal treatment is to stop tooth decay within a tooth's interior and minimize any damage to the tooth and underlying bone. This is done by accessing the tooth's pulp and root canals (tiny passageways traveling through the tooth roots to the bone) by drilling into the biting surface of a back tooth or the "tongue" side of a front tooth.
First, though, we numb the tooth and surrounding area with local anesthesia so you won't feel any pain during the procedure.  We'll also place a small sheet of vinyl or rubber called a dental dam that isolates the affected tooth from other teeth to minimize the spread of infection.
After gaining access inside the tooth we use special instruments to remove all of the diseased tissue, often with the help of a dental microscope to view the interior of tiny root canals. Once the pulp and root canals have been cleared, we'll flush the empty spaces with an antibacterial solution.
After any required reshaping, we'll fill the pulp chamber and root canals with a special filling called gutta-percha. This rubberlike, biocompatible substance conforms easily to the shape of these inner tooth structures. The filling preserves the tooth from future infection, with the added protection of adhesive cement to seal it in.
Afterward, you may have a few days of soreness that's often manageable with mild pain relievers. You'll return for a follow-up visit and possibly a more permanent filling for the access hole. It's also likely you'll receive a permanent crown for the tooth to restore it and further protect it from future fracture.
Without this vital treatment, you could very well lose your tooth to the ravages of decay. The time and any minor discomfort you may experience are well worth the outcome.
If you would like more information on treating tooth decay, please contact us or schedule an appointment for a consultation. You can also learn more about this topic by reading the Dear Doctor magazine article "Root Canal Treatment: What You Need to Know."
By Stonebrook Dental
August 03, 2017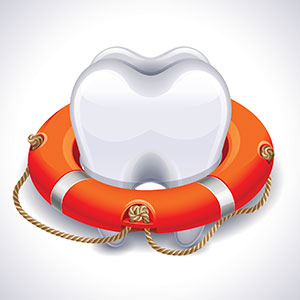 It's no exaggeration — dental implants have revolutionized teeth replacement. Life-like and durable, implants are the closest thing in design and function to a natural tooth.
In fact, there's only one thing better than a dental implant — a real tooth. For function and long-term oral health, you can't beat what nature provided you in the first place. So before you finally decide to remove and replace that problem tooth, consider these other options for saving it.
Root canal therapy. Tooth decay can do more than cause cavities — it can work its way into the pulp, the innermost layer of a tooth. If it isn't stopped here, it could continue on to the roots and put the tooth in real danger of loss. A root canal treatment removes the infection from the pulp and root canals and replaces the space with a filling. A life-like crown is then bonded or cemented to the tooth to protect it from further infection.
Aggressive treatment for periodontal (gum) disease. This other dental disease is just as damaging as tooth decay. Caused by bacterial plaque, the gums around a tooth become infected and inflamed. As it moves deeper into the tissues and inflammation progresses, it can affect supporting bone causing it to dissolve. To prevent this potential bone loss, it's important to seek out and remove hidden pockets of plaque. This may require surgery to access the roots for plaque and calculus (tartar) removal, but it's well worth it to preserve the tooth.
Bone grafting. As mentioned before, gum disease can ultimately lead to bone loss. But even when bone loss has occurred (a substantial threat to a tooth's survival) we may be able to reverse it with bone grafting techniques. During this procedure we insert grafting material at the loss site along with substances that stimulate growth. The graft serves as a scaffold for new bone cells to grow upon. Over time the bone volume increases and helps stabilize a weak tooth.
Of course, your best option is to avoid dental disease in the first place with daily brushing and flossing and regular dental visits for cleanings and checkups. That and treating dental disease in its earliest stages will help ensure you'll have the best teeth possible — your own.
If you would like more information on options for treating diseased teeth, please contact us or schedule an appointment for a consultation. You can also learn more about this topic by reading the Dear Doctor magazine article "Save a Tooth or Get an Implant?"